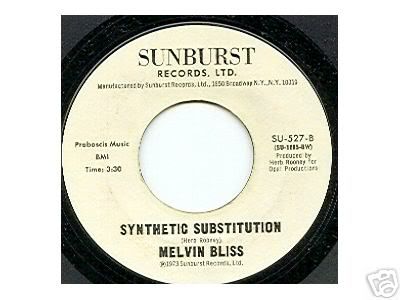 There are plenty drum breaks that have been rocked to death....The obvious ones would be, Funky Drummer, It's A New Day, and of course the very classic, Synthetic Substitution break..
At the time when these breaks were very popular- I honestly didn't mind hearing them flipped a million ways...To me that was one of the creative aspects of sampling ; if you chopped it this way, I was going to find another way to freak it that you never thought of type of thing..
Eventually sappy R & B groups started using these same drum breaks, that's when I knew it was time to consider them " off-limits " (HAHA).
On this podcast from Oakland's "Matthew Africa", he unveils 47 tunes that use the Synthetic Substitution drums in some shape or form....You gotta love concept mixes !!!!!!
CHECK IN-
1. Ultramagnetic MCs: Ego Tripping
2. Xperado: Watch Your Step feat. O.C.
3. Divine Force: Holy War
4. Ghostface Killah: Mighty Healthy
5. N.W.A.: Real Zaggin Don't Die
6. Too Poetic: God Made Me Funky
7. Onyx: Throw Ya Gunz
8. Pharcyde: Ya Mama
9. Pete Rock & CL Smooth: For Pete's Sake
10. Public Enemy: Don't Believe the Hype
11. Willie D: Put the Fuckin' Gun Away
12. MC Jr. Cas: Walk On the Wild Side [Club mix]
13. Almighty RSO: One in the Chamba feat. M.O.P.
14. Group Home: So Called Friends
15. T-Wiz: Good Thing Goin'
16. Knowledge: Put On Your X
17. Def Jef: Black to the Future RMX
18. Top Choice Clique: Peace of Mind
19. Biz Markie: Cool V's Tribute to Scratching
20. Supreme Nyborn: Versatile Extension
21. Ultramagnetic MCs: Pluckin' Cards
22. Freddie Foxxx: Crazy Like a Foxxx
23. Percee P & Ekim: Now They Wanna See Me
24. Robbie B & DJ Jazz: Comin' Correct
25. AMG: Trunk of Funk
26. Zhigge: Toss It Up
27. Public Enemy: Brothers Gonna Work It Out RMX
28. Public Enemy: Brothers Gonna Work It Out
29. Von Love: This Is How It Should Be Done
30. Choice M.C.: This Is the B-Side feat. Chill Phill & MC Sergio
31. Ol Dirty Bastard: Cuttin' Headz feat. the RZA
32. Wu-Tang Clan: Clan In Da Front
33. Naughty by Nature: Yoke the Joker
34. Ghostface Killah: The Champ
35. Funk Lab All-Stars: La Da Da
36. Digital Underground: Tie the Knot
37. Too $hort: Hoes
38. EPMD: Mr. Bozack
39. De La Soul: Stone Age
40. Coolio: I Remember feat. J-Ro & Billy Boy
41. Method Man: All I Need
42. Scarface: Murder by Reason of Insanity
43. Eazy E: Eazy Street
44. Gang Starr: Code of the Streets
45. New Style: Drop the Bomb
46. C.E.B.: Get the Point
47. Brotha Lynch Hung: 24 Deep
48. Melvin Bliss: Synthetic Substitution
LISTEN