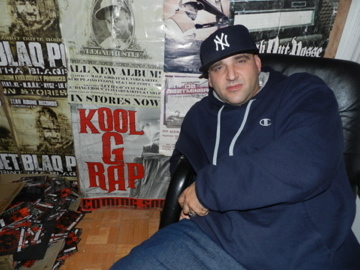 Here are three things I discovered about Joe Fatal while listening to the newest episode of the "Classic Storm Show" with DJ Toshi....
1..I always knew that Large Pro was instrumental in assisting Nas in getting hooked up with a record deal, but what I didn't know is that Joe brought Nas to "LP's" attention which led to him getting picked up by MC Serch (Serchlight Music)...
2..Akinyele & Nas helped Joe write his rhymes on the classic, "Live At The BBQ"....
3..DJ Muggs signed Joe in the early 90's on the strength of a demo he put together with Beat Minerz on production....This was before they went on to create beats for Black Moon, Smith & Wesson, etc....
I wonder if that demo is floating around somewhere in cyber-space ?
This is a great piece of Hip Hop history that you do not want to miss ya'll..
Toshi also rocks a set that includes new songs from M.O.P., Roc Marciano, Bumpy Knuckles, Dom Pachino, Raekwon, and many more...
DOWNLOAD...